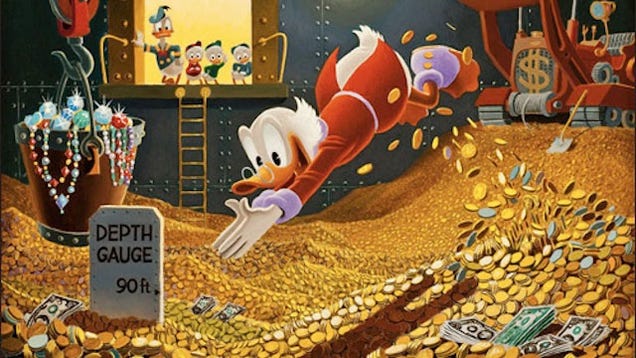 Hello World!
If the quality of creativity were tangible like gold coins, our team at Little Dipper would behave like Scrooge McDuck: we'd cackle and toss handfuls of creativity into the air then we'd dive in and roll in the stuff. At Little Dipper, not only are we a team that works for a business that sells fabrics utilizing a crowdsourcing model, but we are a team comprised of artists and "creatives" like Keith and Emilie: surface designers, web designers, writers, cooks and makers. We revel in creativity—and we hope it shows!
But creativity isn't just a quality of art. Creativity is also the magic behind successful entrepreneurship. Before we launched Little Dipper, we dreamed of the fabrics we'd sell and of the artisan-made products we'd feature, but we also brainstormed what kind of business we wanted to be. As our team planned, we said things to each other like, 
"Quality is number one. Our fabrics must last so our customers' creativity endures." 
"I still haven't been paid for the last product I created for ------ company. We'll make sure our designers are appreciated and well-compensated for their work."
"Being good citizens of the planet is a must! Let's ensure our fabric mills treat their workers well. Let's explore organic cottons…"
"Because our fabrics are crowdsourced, we want to be givers, facilitators and members of the sewing, quilting and DYI communities."
To ensure that the business we all now know as Little Dipper lives up to the values that are important to us and the values that we also believe are important to our customers, we wrote this mission statement:
At Little Dipper, we're as passionate about creativity and beauty as you are! Our contribution to the sewing community is to deliver unique designs and premium quality textiles, while being good citizens of the planet. We hope to weave ourselves into the worldwide community of quilters, sewers, fashion designers, DIYers and artists. We're excited to share our creative, limited edition fabric creations with you!
Okay. Now, doesn't that sound awesome? 
But you may well ask, "What does that mean, specifically?"
To our team, this means: 
 Little Dipper sells quality, original, artist-designed fabrics for doable prices through crowdsourcing.
 Little Dipper sells artisan-made products at fair market value. We empower artists through fair pricing.
 Little Dipper is an ethical business: we ensure the mills that we make our fabrics are worker and earth-friendly, we will encourage other businesses to live by their values to make the world a better place.
For our team to run our business by these values will, at times, take some entrepreneurial creativity. But we are creative. We are able. And we are ready! We suggest that you keep an eye on LittleDipper.co because we're about to dive in…!
Yours,
Laura + The Team at Little Dipper